How geeky are we?
One of my blog buddies, Shindo, got his hands on the iPhone and wrote about his brief experience playing around with it. I've had my hands on one as well, but I was with 2 other people, and it was late so my visit was more for the "I wanna touch it!" than really checking out its capabilities. What's funny is that he pulled up Chris and my blogs on the device, as well as his own — I do the same thing! When I got the Opera browser working on my Wii, the first site I looked at was my own, then Shindo, then Chris. (I didn't take pictures tho)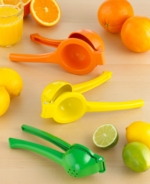 Two friends, Gregory and Fredo, both have iPhones, and I do want one, I could certainly afford one but I'm still hesitant and not sure why. If my brother comes through on his offer that'll be great, but I still haven't been pushed over the edge into buying one for myself yet.
And on the other side of the geek scale, I was recently reminded how much I want the triple set of these Amco enameled citrus squeezers. I've been cleaning out kitchen drawers and cabinets and shelves and I think that these might work as a nice reward for my efforts. From what I see online, reviews are mixed, but I could get the lot of them for about $30. I saw an ad for a new Metrokane citrus juicer (at $100!!) and realized that as pretty as that is, I'm much more low tech and the more things I can keep off the counter, the better. It also led me to an online magazine, Appliancist, which will probably get me into even more trouble now.